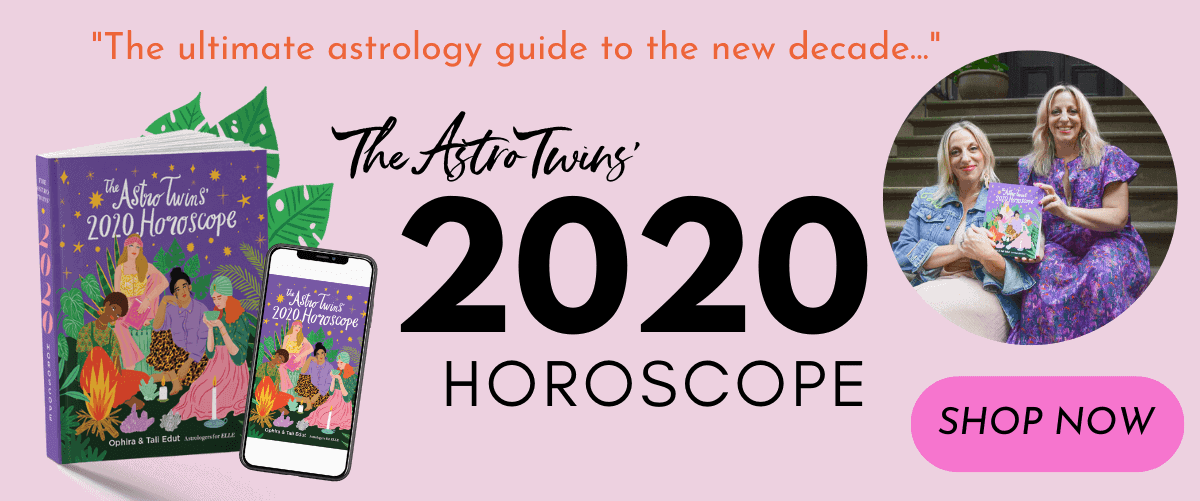 The "luckiest day of the year" in astrology arrives as the Sun and Jupiter make their annual conjunction, this time in Capricorn.
Born on a cusp? Please note that dates for the zodiac signs can vary from year to year. To confirm your actual Sun sign, do a free chart here.
Illustrations by Grande Dame


Aries (March 21 – April 19)
Professional reputation: spiking! Today brings a rare and important merger of the head-turning Sun and auspicious Jupiter in your tenth house of career ambition and success. Finally, you can blast through that mid-level plateau or branch out on your own—whatever you've been dreaming of. Even if you don't feel ready to take the leap right now, you can start taking significant steps that will land you in your own version of the winner's circle soon. Ask, believe, receive. See the full week >


Taurus (March 21 – April 19)
Burst out of the cocoon and test your wings, Bull! If you've been afraid to make a bold move, take advantage of today's stars, which will put a big wind in your sails and help you soar. A rare meetup of the confident Sun and abundant Jupiter in your expansive ninth house pushes you in the direction of a lofty goal. And these heavenly heavyweights urge you to dream BIG! What's in your heart: a gap year, a round-the-world trip, an advanced degree? Any of these things and more are possible now! See the full week >


Gemini (May 21 – June 20)
This is a fantastic day for every kind of hookup, from joint business ventures to the more famously fun kind. A merger of the Sun and expansive Jupiter in Capricorn fires up your eighth house of shared resources, eroticism and intimacy—and you'll be one lucky Gemini if you can hit THAT trifecta! For those who've feared that getting too involved will cost you your independence—or assets—this conjunction might lend enough confidence to give it a shot. Reserve the right to opt out later. See the full week >


Cancer (June 21 – July 22)
Today's magnificent mashup of the luminous Sun and fortuitous Jupiter in your seventh house of dynamic duets can spur you to say yes after a bout of dithering. Whether you're considering a love match or a business partnership, the right connection can enrich your life in profound ways. On the flip side, if you've been trying to break free of a union, Jupiter gives you the guts to pull the plug. Also favored under this aspect are long-distance relationships. Maybe one of you is finally ready to make the big move? See the full week >


Leo (July 23 – August 22)
Today's magical meetup of the Sun and optimistic Jupiter in your sixth house of wellness, self-care and organization kicks off a new approach to your health habits—and daily routines. This merger only happens once a year, but you'll feel its powerful effects for a while. Jupiter encourages you to think BIG. Go ahead and join a new gym or get a yoga pass. But you might also be inspired to commit to running a half-marathon or getting your yoga teaching certification. This is a great day for all kinds of goal-setting: Just watch for being TOO ambitious…which, you know, Leo, is kind of your thing. See the full week >


Virgo (August 23 – September 22)
This way to the main stage! You won't be able to hide in the shadows or play small today, Virgo. The Sun is forming a bold merger with exuberant Jupiter in Capricorn in your fifth house of glamour, passion and fame. Without even trying, you'll exude irresistible animal magnetism with your natural sensuality like catnip to hordes of admirers and would-be inamoratos. Single Virgos will have their pick of the litter, so choose wisely. Couples can stoke the embers with some undistracted one-on-one time. See the full week >


Libra (September 23 – October 22)
It might be hard to drag yourself out of your cozy abode today, Libra, thanks to a meetup of the exuberant Sun and abundant Jupiter in your domestic fourth house. Take a work-from-home day—or call in sick. Put on your favorite bed linens, hang the picture that's leaning against the wall, buy yourself fresh flowers. And how about an impromptu potluck dinner party at Chateau Libra? Start working the phones and get everyone psyched. Finally: An excuse to crack open that good bottle you've been saving! See the full week >


Scorpio (October 23 – November 21)
You won't be at a loss for words today, Scorpio. All you need to do is set an intention, open your mouth and trust that perfect sentences will flow. You can thank the magical mashup of the confident Sun and forthright Jupiter in Capricorn, your third house of communication, for this plucky gift of gab. Have the awkward convo; pitch that genius idea you've been sitting on. Virtual dialogue is supported too, so if you've been waiting for the perfect moment to launch an effective social media campaign, this is it! See the full week >


Sagittarius (November 22 – December 21)
Cha-ching! Today brings the momentous mashup of the assertive Sun and auspicious Jupiter, this time occurring in Capricorn and your money house. Even luckier for you, Sag: Jupiter is spending the next year here, helping you make the most of promising opportunities and sow the seeds for long-term fiscal security. You can probably sniff out great work prospects on your own, but to grow your nest egg in the savviest way, you may want to hire a professional financial adviser. See the full week >


Capricorn (December 22 – January 19)
Woo-hoo! Today brings a dazzling and empowering alignment of the confident Sun and abundant Jupiter in your sign. This hasn't occurred in more than 12 years—and won't happen again for another 12—so you really want to make the most of it! Where have you felt blocked—or ready to blast through to a new level? The stars support you in taking a gamble and betting on YOU. Need a pep talk? Call a friend who KNOWS you're all that (because you are, Capricorn). If you can have faith in a fraction of that, you'll be unstoppable. See the full week >


Aquarius (January 20 – February 18)
Unplug and explore the most interesting place in town: your own imagination! Today brings a powerful alignment of the resourceful Sun and expansive Jupiter in your twelfth house of introspection and divine downloads. This hasn't occurred in more than 12 years—and won't happen again for another 12— so make the time for an excellent adventure! By turning inward, you could have an important epiphany or a huge creative breakthrough or release something toxic that's been holding you back. See the full week >

Pisces (February 19 – March 20)
This is a rare and important day for a group project, so don't sit back and wait for someone else to make it happen! The conjunction of the creative Sun and expansive Jupiter lands in Capricorn, powering up your eleventh house of #squadgoals. If you're already collaborating with an innovative group, take the reins and steer everyone to consensus. Later in the day, keep the morale high—or celebrate a Team Aquarius victory—by corralling everyone to happy hour… first round on you! See the full week >
What do the stars have in store for you this December? Read your monthly horoscope now
Get horoscope updates straight to your inbox! Sign up for The AstroTwins newsletter
The post Daily Horoscopes: December 27, 2019 appeared first on Astrostyle: Astrology and Daily, Weekly, Monthly Horoscopes by The AstroTwins.
Read more: astrostyle.com