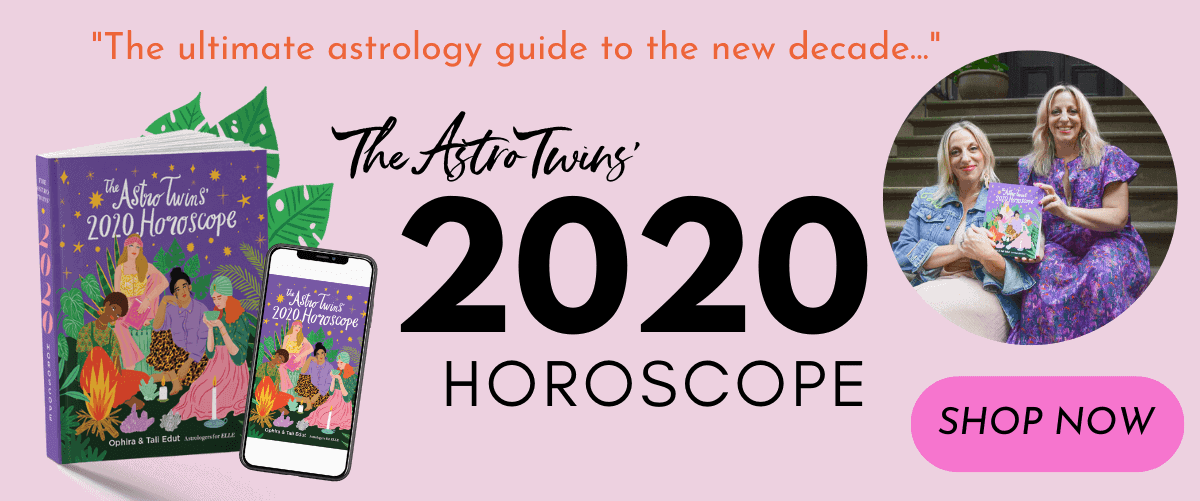 The final eclipse of the decade is here at 12:13am! The Capricorn new moon & annular solar eclipse is a "ring of fire" for the blazing outline of the Sun behind the moon's passing shadow.
Born on a cusp? Please note that dates for the zodiac signs can vary from year to year. To confirm your actual Sun sign, do a free chart here.
Illustrations by Grande Dame


Aries (March 21 – April 19)
Your meteoric ascent can't wait, Ram! Today's skies feature the year's second new moon in Capricorn in your tenth house of career success, and because this one is also a solar eclipse, it can accelerate your biggest dreams. This lunar power surge can bring sudden opportunities or help you land on the perfect approach to an ambitious professional goal. Your spontaneous sign likes to enter a situation at full strength, but this requires you to be strategic instead. Over the coming two weeks, focus on your intentions and wishes, actually envisioning how life will look and feel when you're there. Then do something bold and audacious to broadcast the message that you're raring to go. See the full week >


Taurus (March 21 – April 19)
Left to your own devices, Bull, you can be a world-class homebody who loves your creature comforts. But when wanderlust strikes, it hits you hard. Today, you might catch a serious case of cabin fever that all the Travel Channel shows in the world can't cure. That's because of a powerful and game-changing solar (new moon) eclipse in Capricorn that's powering up your ninth house of travel and adventure. If you can get away in the next two weeks, you'll have the best chance of successfully scratching that itch. If you can't hit the open road (or skies), do something that'll keep you inspired. Take an intensive language class, learn to cook Vietnamese food or sign up for a politically stimulating lecture series. See the full week >


Gemini (May 21 – June 20)
We hope your brainy sign can handle the mega case of the feels that today's solar (new moon) eclipse in Capricorn will bring as it powers up your eighth house of eroticism, intimacy and merging. On one level, this is about soul bonding and getting closer with a romantic partner. In a relationship? This is prime time for solidifying your commitment and talking about "what's next." Single? Make it your mission over the next two weeks to take any and all actions that could help you meet someone with true potential. This lunar power surge will also turn your thoughts to financial security, especially long-term investments and shared resources. If things "need improvement," talk to the appropriate parties to get them on the right track. See the full week >


Cancer (June 21 – July 22)
Hang the "Do Not Disturb" sign, Crab: You may not be in the mood to come out from under the covers! A potent new moon/solar eclipse lands in Capricorn and stokes your seventh house of committed partnerships. This isn't about hookups or casual encounters. This is real-deal territory, and your relationship or status could undergo a radical change in the coming two weeks. If you're searching for lasting, reciprocal love, the right swipe could reveal someone with that potential. In a new union? Talk about your hopes and dreams for the future. If you're not on the same page, it might be time to cut bait and fish elsewhere. Couples should explore opportunities to expand your togetherness, perhaps with a business venture or buying a camper for weekend (and longer) getaways. See the full week >


Leo (July 23 – August 22)
Guilt and self-flagellation isn't the way to prepare for a healthy new year, so forgive and forget those holiday overindulgences already! The point is, you had fun—and you can drop a new pin in your wellness map. Today brings extra cosmic support as the new moon (also a game-changing solar eclipse) in Capricorn pours jet fuel in your sixth house of health and self-care. In the sign of the goal-oriented Goat, it'll give you support to map out resolutions and actually enjoy working out and eating more "functionally" in the next six months. Don't overlook the SELF-nurturing part of this lunation, Leo. Holistic bodywork, moving your body and soaking in salt baths can neutralize stress and keep you running like a well-oiled machine. Bring on the cacao smoothies! See the full week >


Virgo (August 23 – September 22)
Today's astro news is a big deal indeed: The year's second Capricorn new moon—also a turbocharged solar eclipse—turns on the gas in your creative, flirtatious fifth house. It's time to step out from behind the curtain and take your place at center stage. You don't literally have to be an artist or performer to max out on these lunar benefits (though innovators will get a special boost). Any expression of your true self and not just your work persona will have a magical aura now, and for the next several months. What brainchild (or actual bambino) are you "gestating"? Get ready for your big reveal, Virgo! And definitely bump romance to the top of your priority list. Actually, you might not need to do a single thing! See the full week >


Libra (September 23 – October 22)
Put those dancing shoes back in your closet, Libra: The only place you'll be kicking up your heels is at your own home sweet home as the year's second Capricorn new moon lands in your domestic fourth house. (And this one is a potent solar eclipse.) The most powerful urge you may experience is to feather your nest, whether with a new cashmere throw or pots of hearty soup. If Chateau Libra hasn't seen so much as a new layer of paint in years, get ready for some upgrades. You CAN do this on a budget, which the practical Capricorn moon would approve of. Shop for online deals or hit up vintage shops close to home. This galvanizing lunar lift can forebode a move for some Libras, but don't rush into anything. These beams will be in effect for up to six months. See the full week >


Scorpio (October 23 – November 21)
Think globally, but save your best acts for the local scene! Today, a solar (new moon) eclipse powers up your third house of socializing and hometown happenings. Even if it's cold outside, this is a great opportunity to meet kindred souls in the 'hood who are doing things you're interested in. You don't have to be a mere observer or participant, either! Talk to people and see where help is needed. It could be that a shopkeeper could use the very skills or products you're trying to market. And if you're single, there could well be a fringe benefit in the offing! See the full week >


Sagittarius (November 22 – December 21)
You won't have to squint to see your ship coming in on the horizon, Archer! Today, the year's second Capricorn new moon—also a powerful solar eclipse—lands in your second house of finances and security. This lunar lift will help you get a handle on your spending habits and places you're "leaking" your hard-earned funds. But the best way to motivate yourself to prioritize saving money is to have clear and immediate goals. Need a new car, hoping to put a down payment on a house or maybe take a dream vacation this year? Figure out how much is needed, how many weeks you have to accumulate that, crunch the numbers—and then tighten your belt! See the full week >


Capricorn (December 22 – January 19)
Today is like a personal birthday party for you, regardless of when your actual birth date is! The year's second new moon in your sign also happens to be an electrifying solar eclipse. This is the final of three eclipses powering up your sign in 2019 (the first two were on January 5 and July 16), and their influence will fire you up with motivation and passion. No more hesitation: Take on some of your bigger challenges now while you've got a fire blazing in your belly. What dreams can you set in motion that will help you achieve these big goals? With supersizer Jupiter in close connection, travel or global expansion may figure in. See the full week >


Aquarius (January 20 – February 18)
Ready, set, downshift! Today's skies feature the year's second Capricorn new moon, which also happens to be an empowering solar eclipse, in your twelfth house of introspection, relaxation and healing. It may not be an easy transition going from your hectic pace of life to slow and easy, but try! Start by doing a little digital detox, letting folks know they won't be seeing you in the usual virtual places. Then pick a few books or creative projects to throw yourself into over the next two weeks. Download some guided meditations and listen to at least one a day. In the background, invite your muse to help you set some personal goals for the coming year. And then pursue them—gently! See the full week >

Pisces (February 19 – March 20)
When's the last time you took the emotional pulse of Team Pisces? If you—or anyone on the squad—are less than delighted with each other and your collective success, you'll have a golden opportunity to make some needed adjustments starting today. The year's second Capricorn new moon—also a potent solar eclipse—turns on the lights in your eleventh house of collaboration and technology. What have you been ignoring lately; how could things improve in these areas? You may have to have an uncomfortable conversation with someone, but if that helps the whole crew get back in high gear, it'll be worth enduring an awkward hour or two. See the full week >
What do the stars have in store for you this December? Read your monthly horoscope now
Get horoscope updates straight to your inbox! Sign up for The AstroTwins newsletter
The post Daily Horoscopes: December 26, 2019 appeared first on Astrostyle: Astrology and Daily, Weekly, Monthly Horoscopes by The AstroTwins.
Read more: astrostyle.com