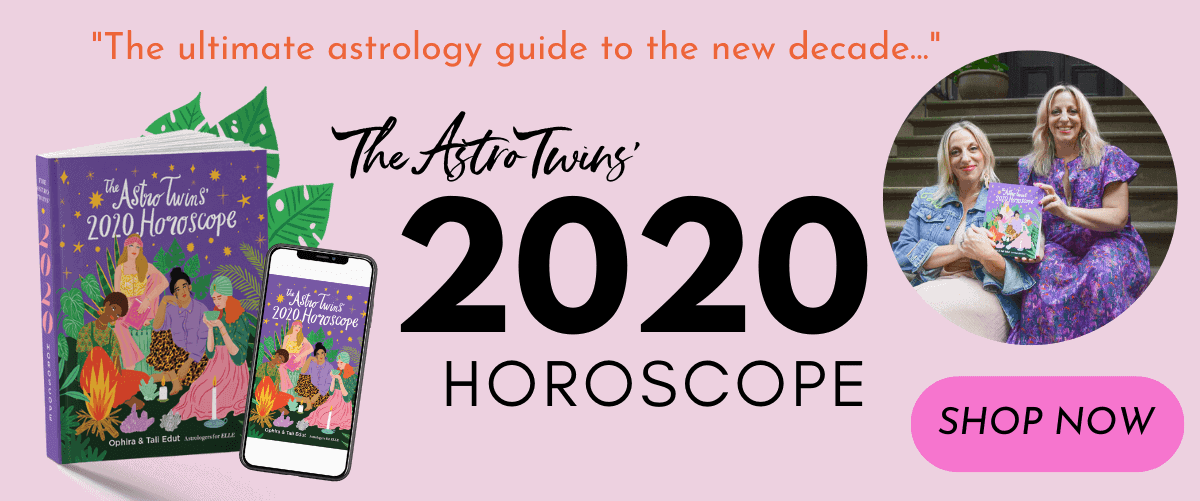 With the moon, Jupiter, Saturn and Pluto in Capricorn, it's a traditional Christmas vibe, but a curveball from disruptor in Uranus could add some excitement to the day.
Born on a cusp? Please note that dates for the zodiac signs can vary from year to year. To confirm your actual Sun sign, do a free chart here.
Illustrations by Grande Dame


Aries (March 21 – April 19)
Cupid's riding shotgun to Santa this Christmas Day, so open up the chimney AND your heart. Were you too quick to write someone off? Take advantage of the seasonal sentimentality and ask for a second chance. A little under-the-tree Tindering could line you up with an evening plan. But don't rush off and ditch your entourage, Aries. A dutiful moon in Capricorn and your traditional tenth house calls for family bonding. And thanks to a trine from Uranus, festivities could take a turn in a delightfully unconventional direction. See the full week >


Taurus (March 21 – April 19)
Forget cuddling on the couch or staring at snowdrifts all day. Beeline to your laptop and start scouring for supersaver fares and standby flights! Today, the moon in make-it-happen Capricorn cranks up your wanderlust. You could be ringing in 2020 from a tropical resort—or possibly flying there tomorrow. Let spontaneity be your spirit guide. This moon can bring sexy confessions, especially since it angles unpredictable Uranus in your fifth house of romance. Unleash those feelings you've kept locked in the chamber of secrets. Nothing's ever going to happen if you don't at least drop a hint. See the full week >


Gemini (May 21 – June 20)
Vixen FTW—hello, spirit reindeer! Christmas Day features a moon in Capricorn and your erotic eighth house. As your kundalini rises, you'll prefer a private party with THAT person, so don't force yourself to sit around the tree until every last present is unwrapped. Flying solo? Since emotions could run deep, make sure you're surrounded by supportive people who can talk you down from any obsessing that fires up. And no dwelling on people who disappointed you in 2019, okay? Put your focus on the future and start manifesting from there. See the full week >


Cancer (June 21 – July 22)
Cupid is Santa's co-pilot as the Capricorn moon lights up your partnership corner this Christmas Day. Scrap your itinerary and be spontaneous since YOLO Uranus is also in the frame. Some unstructured playtime with your sweetie reminds you of why you got together in the first place. And if you're single, you'll be far more likely to magnetize a match (IRL or online) if you're not obsessing over the order that presents are handed out and the perfectly rounded edges of your morning pancakes. See the full week >


Leo (July 23 – August 22)
Dismantle the gingerbread house and bundle up for a stroll through the snowdrifts. Christmas Day comes with a moon in Capricorn and your sixth house of healthy living. Don't deny yourself a little decadence today, Leo. But if you've been indulging heavily, plan to be the first one back on the mat when your yoga studio reopens. Today, you'll enjoy being of service to others. Lend a helping hand and stop by to visit an elderly neighbor with a plate of food. See the full week >


Virgo (August 23 – September 22)
You're the life of the Christmas Day celebrations as the Capricorn moon electrifies your festive, flamboyant fifth house. Lounging in PJs all day? No thanks! You'd rather don another piece from the "glam apparel" category and go visit friends or host an impromptu cocktail party. Why not? This moon revs up romance. You could FINALLY get things going with your crush or take an existing relationship to a new level—exchanging keys or even making babies. Wherever you are, take it upon yourself to get the party started…and keep it going strong! See the full week >


Libra (September 23 – October 22)
Domestic bliss is practically guaranteed this Christmas Day as the Capricorn moon gets cozy in your fourth house, making you happiest at home. And while you're down to enjoy the requisite gift exchange, French toast and sentimental moments, make sure the day includes plenty of relaxing alone time too. Innovative Uranus is in the mix, so you might be busy setting up the gadgets you just unwrapped or picking out the perfect theme for your website. Just don't disappear for too long. A woman—your mother, sister, daughter or BFF—won't simply object, she could feel rejected. Oops! See the full week >


Scorpio (October 23 – November 21)
Santa's little entertainment director? That's you today as the moon in Capricorn electrifies your social third house. Sitting around in PJs all day? Only if that involves an epic round of gaming or a jam session. Rally relatives close in age or drop in to visit friends. You'll most enjoy the company of your peers under this lunar light—better yet if a crushable cutie you love flirting with winds up on your guest list. And with unpredictable Uranus tapping the moon, there's no telling where this connection might go! See the full week >


Sagittarius (November 22 – December 21)
For a change, YOU are the eye of the hurricane today, Sagittarius, as the moon in Capricorn lands with a gentle thud in your grounded second house. Keep the chaos to a minimum by coming up with rules that feel like a game—particularly when it comes to the unwrapping of presents or group outings with highly opinionated relatives. Not that you should kill off ALL spontaneity. (As if!) Rule-breaker Uranus will trine the moon today so once the tinsel and ribbons are cleaned up, rally everyone for karaoke, board games or sledding. See the full week >


Capricorn (December 22 – January 19)
Santa's major moment happens to be a big one for you too, Capricorn. Christmas Day arrives with a moon in your sign, which can bring a bounty of personal rewards, especially for your hard work over the past six months. Your independent spirit is also lit up, so forget about dragging Dasher and Dancer along out of guilt. Make your own plans after the presents are unwrapped, bopping between events, reading or writing out inspired resolutions. With Uranus nudging the moon from your fame zone, your mind might be on your next ambitious move…or the fierce shearling coat you are about to drop your Christmas cash on. See the full week >


Aquarius (January 20 – February 18)
What do you want to send UP the chimney and out of your life? The moon is in Capricorn and your twelfth house, emphasizing closure and healing. Saying goodbye to something you've outgrown could be the gift that keeps on giving—especially if you've been pouring energy into a bottomless pit of need. Your charitable spirit is invoked, but give to the needy, not the greedy! With your ruler, metamorphic Uranus, nudging la luna, you might be inspired to rearrange your home—especially if that means creating a private space for you to meditate and innovate. See the full week >

Pisces (February 19 – March 20)
Keep that Memos app open! Even as you're unwrapping presents and flipping French toast, you may be struck by flashes of genius today, thanks to revolutionary Uranus trining the moon. The unpredictable planet's participation might heat up a budding flirtation, so stick close to the mistletoe. Or just keep things casual! With the Capricorn moon activating your communal eleventh house, appoint yourself social director for the day. When an imaginative Pisces gets in the mood to plan activities, no one can come up with more entertaining ideas! See the full week >
What do the stars have in store for you this December? Read your monthly horoscope now
Get horoscope updates straight to your inbox! Sign up for The AstroTwins newsletter
The post Daily Horoscopes: December 25, 2019 appeared first on Astrostyle: Astrology and Daily, Weekly, Monthly Horoscopes by The AstroTwins.
Read more: astrostyle.com