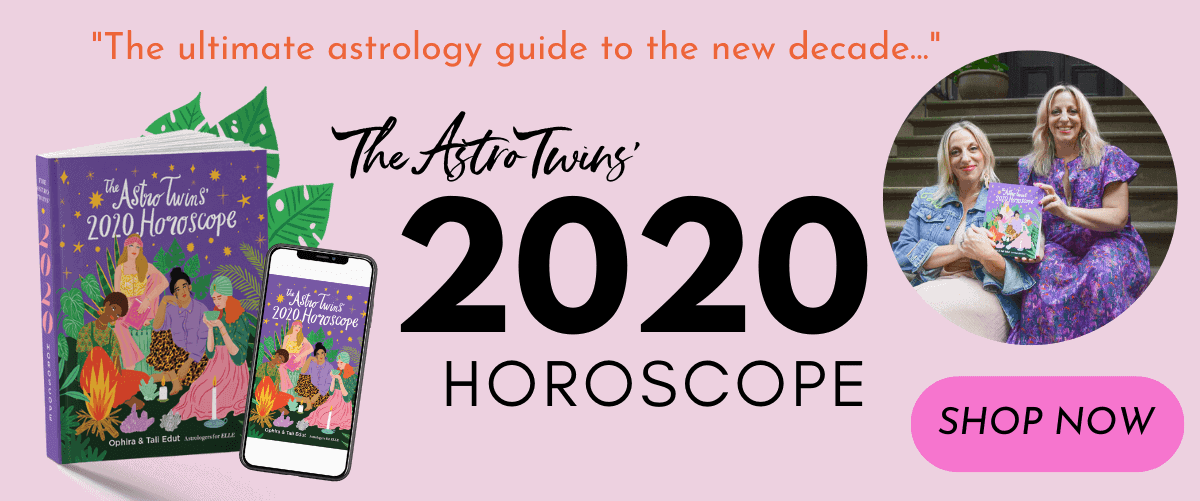 Last minute changes (or shopping)? No problem! The Capricorn Sun trines changemaker Uranus in Taurus. Get ready to shift plans without notice.
Born on a cusp? Please note that dates for the zodiac signs can vary from year to year. To confirm your actual Sun sign, do a free chart here.
Illustrations by Grande Dame


Aries (March 21 – April 19)
Raise the bar! Today, the ego-driven Sun and radical Uranus shout marching orders to step up your career game. Just because you've clocked out for Christmas Eve doesn't mean the mission is done, Aries. Choose your activities wisely, like popping into a gourmet grocery store where you might rub elbows with VIPs and exchange business cards. Tired of your job? Then it's time to be strategic and make a move! Today's ambitious starmap sets the stage to take a bold new path, but nothing will fall into your lap. Put a date on your calendar for next week when you can spruce up your resume and LinkedIn profiles and get ready to network. Friendly reminder: It's all about who you know. See the full week >


Taurus (March 21 – April 19)
Restless much? You're itching for escape, daydreaming of white-sand beaches or wandering through temples and ruins. But what can you do right NOW, Taurus? Under today's impulsive Sun-Uranus trine, find an immediate fix that will sate your inner adventurer closer to home. Visit a newly opened venue for drinks and, if you're celebrating Christmas Eve, invite a newish friend to join you. How about starting a dance party under the tree? And if the urge to travel just can't be denied, set a fare alert and book when the price is right! See the full week >


Gemini (May 21 – June 20)
Jealousy alert! The emerald-eyed monster could rear its head among your squad today thanks to a meeting of shock jock Uranus and the ego-driven Sun in your intense eighth house. Avoid getting caught in the comparison trap, Gemini—these are your friends, after all! If you find yourself obsessing over who has more money or followers than you, consciously stop yourself. View their accomplishments as inspiration. As you're thinking about a Christmas miracle, remember that you're co-creating with the universe, always. What actionable steps can you take NOW to make your own dreams a reality? Start by planting small seeds, and, with enough nurturing, you'll soon see them grow. See the full week >


Cancer (June 21 – July 22)
Let's hear it for synergy! Today, radical Uranus aligns with the bold Sun in your relationship house, fueling your interactions with stimulating conversation. If you've been at odds with someone close to you, these skies set the stage for reconciliation. Stop avoiding your friend, Cancer! Pour a couple glasses of eggnog and have a constructive fireside chat. If things have gotten tense within your family, movement can help shake things up. Organize a living room dance party or get everyone to bundle up and go for a walk. Once you've loosened up a little, you'll find that discussions run much more smoothly. See the full week >


Leo (July 23 – August 22)
Holiday perfectionism alert! Today, the Sun is grinding through your sixth house of efficiency, teaming up with innovative Uranus in your ambitious tenth house. You're unstoppable on your mission to serve the perfect feast or having every detail attended to—but no need to carry the weight alone. Enlist a few helpful people to lighten your load as you enjoy this festive evening. Under this impatient starmap, you could worry that you're not getting the recognition you deserve. A few humblebrags wouldn't hurt—or just employ some humor and come right out and ask for that praise. You've worked for it, so why not, Leo? See the full week >


Virgo (August 23 – September 22)
You've been up in the clouds, fantasizing about how you want life to go, but it's time to make some bold moves down here on Earth. Today, the Sun in your courageous fifth house teams up with innovative Uranus to make your grand visions a bona fide reality. But success is not going to fall out of the sky, Virgo. Start putting yourself out there and building a buzz. Since it's a holiday, use social media to blast meaningful messages out to your channels and let the world know what you're up to. A little self-promotion goes a long way. Cast a wider net than usual as you conduct your outreach—you never know whose attention you might grab. See the full week >


Libra (September 23 – October 22)
As the saying goes, you should be able to count your truest friends on one hand. But have you kept your inner circle so tight that no worthy contenders can get in? Today, the daring Sun high-fives changemaker Uranus in the most personable parts of your chart. If someone new has been vying for your attention, give them a chance, Libra. Break the ice with some genuine conversation and see if they can meet you in that down-to-earth space. And hey, if there's room around your holiday table for a couple mystery guests, keep the door open. One new acquaintance has the power to change your life for the better! See the full week >


Scorpio (October 23 – November 21)
Don't hold back, Scorpio! You're in your witty element, so assume the role of the raconteur and entertain all the people you're celebrating with. A magnetic alignment between the bold Sun and unpredictable Uranus will have a captive audience eating out of your hand. Since people are drawn to you like moths to the flame, use this charisma to your advantage and voice your most outre ideas. Don't hold back—especially in romance. Your wit and allure are heightened, and a little flirting will go a long way. But don't toy with people's emotions, Scorpio. You'd hate to find out later you mistakenly led someone on when the whole time you thought you were just having a mistletoe moment. See the full week >


Sagittarius (November 22 – December 21)
Risky business? Today's stars urge you to break the mold and take a bold leap toward progress. Playing it safe has run its course, Sagittarius, and you could be missing out on a lucrative opportunity if you stay in your holding pattern. Don't jump without a net, but do start weighing your options—even if you slip in a search when the food is in the oven or you get a second to yourself despite family demands on your time. A better route is to explore the unfamiliar then create a solid plan of action. No need to quit anything; knowing the playing field will position you to negotiate a higher status or pay grade in early 2020. See the full week >


Capricorn (December 22 – January 19)
Your wanderlust is roused today thanks to a freedom-seeking sync-up of the Sun and indie-spirited Uranus. Nobody puts a Capricorn in the corner—but you might put yourself there if duty is calling loudly. Here's an idea: Instead of letting this festive, life-giving energy pass you by, enlist support on kitchen duty or party prep. People will be happy to lend a hand. Then you'll have time to slip off and browse a nearby boutique for last-minute gifts. Tonight, reach out to an inspiring and charismatic friend—and wherever you're celebrating, don your most head-turning apparel. See the full week >


Aquarius (January 20 – February 18)
Try not to overdo it today, Aquarius. The Sun is asleep at the wheel in your twelfth house of rest AND synced up with your ruler, Uranus in your homey fourth house. No wonder the thought of tossing chestnuts on the open fire (or even lighting a match!) makes you want to take a long winter's nap. Surrender! To make the most out of the festive occasion, let other people take command of the celebrations. No, things might not go "perfectly," but you'll actually get to relax and enjoy yourself. Tonight, a profound conversation will strengthen a bond—and close the gap—with someone you were closer to in the past. See the full week >

Pisces (February 19 – March 20)
Filters please! A foot-in-mouth moment is entirely possible today, with the ego-driven Sun linking up with erratic Uranus. You're the zodiac's compassionate unicorn, and your "out-there" notions could be too much for a certain audience. Save the "woo" for your closer compadres, especially if it comes loaded with judgment. Got something important to say on social media? Draft your statement first and sit on it until at LEAST after lunch. If your mission is humanitarian in nature, you have the potential to generate a lot of traction now. Be sure to fact-check any statistics you're putting out there. See the full week >
What do the stars have in store for you this December? Read your monthly horoscope now
Get horoscope updates straight to your inbox! Sign up for The AstroTwins newsletter
The post Daily Horoscopes: December 24, 2019 appeared first on Astrostyle: Astrology and Daily, Weekly, Monthly Horoscopes by The AstroTwins.
Read more: astrostyle.com