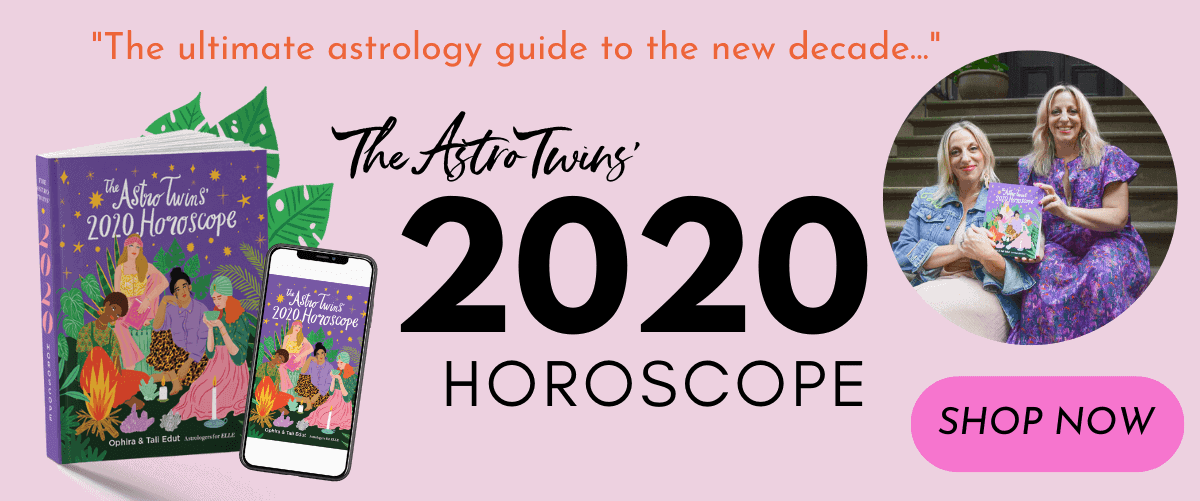 A new era begins! Bountiful Jupiter leaves Sagittarius and enters Capricorn until December 19, 2020. Time to build those big dreams into tangible form.

Born on a cusp? Please note that dates for the zodiac signs can vary from year to year. To confirm your actual Sun sign, do a free chart here.
Illustrations by Grande Dame


Aries (March 21 – April 19)
Ready, set, GOAL! Buckle your seat belt, Aries; things may take off at quite a clip starting today. After a year of expanding your personal horizons, abundant Jupiter jolts into Capricorn and your professional tenth house until December 19, 2020. Over these next 12 months, you'll have a nonstop flow of career opportunities that can launch you into a new level of success. First, reassess your grandest goals and make sure they still fit. Then devote yourself to taking advantage of Jupiter's enthusiasm and lucky vibes to make those dreams a reality! See the full week >


Taurus (March 21 – April 19)
Ignore the naysayers and focus on your own personal vision! Starting today, as infinite Jupiter blazes into Capricorn and your ninth house of travel, adventure and higher education, you're being urged to widen your viewfinder and set your sights on more exciting vistas. What are some of your biggest dreams—the ones you keep deferring on the assumption that you'll get around to them "someday"? Jupiter's message is loud and clear: "Someday" is on the docket for "sometime" between now and December 19, 2020! See the full week >


Gemini (May 21 – June 20)
Get ready to experience new extremes of emotionality! Whatever you thought of as "intense" before is about to hit a whole new level starting today. Larger-than-life Jupiter blasts into intimate Capricorn and your depth-plumbing eighth house for a 12-month stay. During this time, superficial subjects will hold no interest as you swan-dive into metaphysics, soul-stirring connections and mergers. You'll be seeking answers to life's big questions and ways to create the kind of lasting bonds your heart craves. Go deep or go home! See the full week >


Cancer (June 21 – July 22)
Love is on your mind, Crab, and there's no getting around it! Today is a huge day for your sign, as expansive and auspicious Jupiter blasts into Capricorn and your seventh house of committed partnerships for the next 12 months. The larger-than-life planet hasn't seen this part of your chart in more than 12 years, and things could get very exciting very fast. Single? This could be your year! Attached? You could deepen or improve your union or, if you're ready, make it official. See the full week >


Leo (July 23 – August 22)
Ready to roll your sleeves up and get down to brass tacks? Good plan! After a long year of hosting larger-than-life Jupiter in playful Sagittarius and your passionate fifth house, you're eager to get your health, fitness and work routines back in a steady groove. Lucky for you, auspicious Jupiter invades Capricorn today, electrifying your sixth house of wellness and organization until December 19, 2020. If you can imagine it, you can accomplish it—and your ingenious sign can envision anything! See the full week >


Virgo (August 23 – September 22)
Ring, ring! It's the universe calling, yanking you out of your cozy homestead and calling you back out into the opulent world. After a year of holing up in your private domestic quarters, you're ready to kick up your heels and have some fun. Today, larger-than-life Jupiter blasts into dedicated Capricorn and your fifth house of romance and creativity. Flirt, seduce and follow your muse to your heart's content. You've been waiting 12 years for this, and from now until December 19, 2020, you're invited to follow your bliss, no detours allowed! See the full week >


Libra (September 23 – October 22)
It's been a dizzyingly long year of socializing and honing your self-expression as expansive Jupiter knocked down barriers in your communication sector. But today, the expansive, auspicious planet swings into Capricorn and puts down roots in your fourth house of domesticity. What home-based goals have you back-burnered? Do you want to renovate—or buy a place of your own? Move in with your beloved? Or just create a home office and make that your HQ? Dream it, do it over the next 12 months! See the full week >


Scorpio (October 23 – November 21)
Your communication style could come into the shop for a tune-up over the next 12 months as expansive Jupiter leaves your nose-to-the-grindstone second house and fires up your third house of self-expression and local community-building. This is one of the best possible Jupiter transits for Scorpios in sales, marketing and the media. The next year-plus is a perfect time to invest in advanced training or hire a consultant to help you polish your visual and verbal style and create dazzling new marketing materials. See the full week >


Sagittarius (November 22 – December 21)
Show YOU the money! You've been working deeply on yourself for the past 12 months as expansive Jupiter in your sign helped you discover a new purpose and clarify personal goals. Starting today, the planet of abundance takes up residence in Capricorn and your second house of work, finance and security. Jupiter hasn't been here since 2009, and you're an entirely different person now. Are you ready to (re)fill your coffers? Between now and December 19, 2020, you could experience a major uptick in your earnings—also in your self-confidence! See the full week >


Capricorn (December 22 – January 19)
Today's a red-letter day, one that's taken more than a decade to get here! Auspicious and abundant Jupiter leaves your introspective twelfth house and blasts into your sign until December 19, 2020, heralding a long year of increased vitality, optimism and self-confidence. This doesn't mean you should kick back and wait for the bounty to roll in. This assertive and proactive cycle urges you to take bold risks. There will be plenty of opportunities to reinvent your life, but you need to find them and pounce. Jupiter's entry into Capricorn kicks off a brand-new 12-year chapter of your life. Yes, it's really that major. See the full week >


Aquarius (January 20 – February 18)
Give those social butterfly wings a rest and come in for a landing! You've been quite the fraternizer for the last 12 months as Jupiter whisked through Sagittarius and your eleventh house of group activity. But starting today, the outsize planet downshifts into Capricorn and your twelfth house of introspection endings and transitions. Take between now and December 19, 2020, to reflect on what you've accomplished and what's still left to do. Release what's no longer working and allow others to support you instead of trying to do it all yourself. See the full week >

Pisces (February 19 – March 20)
For the past year, as abundant Jupiter sailed through Sagittarius and your career zone, you probably made some tremendous strides, both in terms of work and professional connections. Starting today, you'll build on that as expansive Jupiter rockets into Capricorn and your eleventh house of teamwork and technology until December 19, 2020. Jupiter hasn't paid its respects to this realm since 2009. Now your wiser self can take the reins and reinvent your social life, which includes humanitarian work and efforts to make the world a better place. See the full week >
What do the stars have in store for you this December? Read your monthly horoscope now
Get horoscope updates straight to your inbox! Sign up for The AstroTwins newsletter
The post Daily Horoscopes: December 2, 2019 appeared first on Astrostyle: Astrology and Daily, Weekly, Monthly Horoscopes by The AstroTwins.
Read more: astrostyle.com