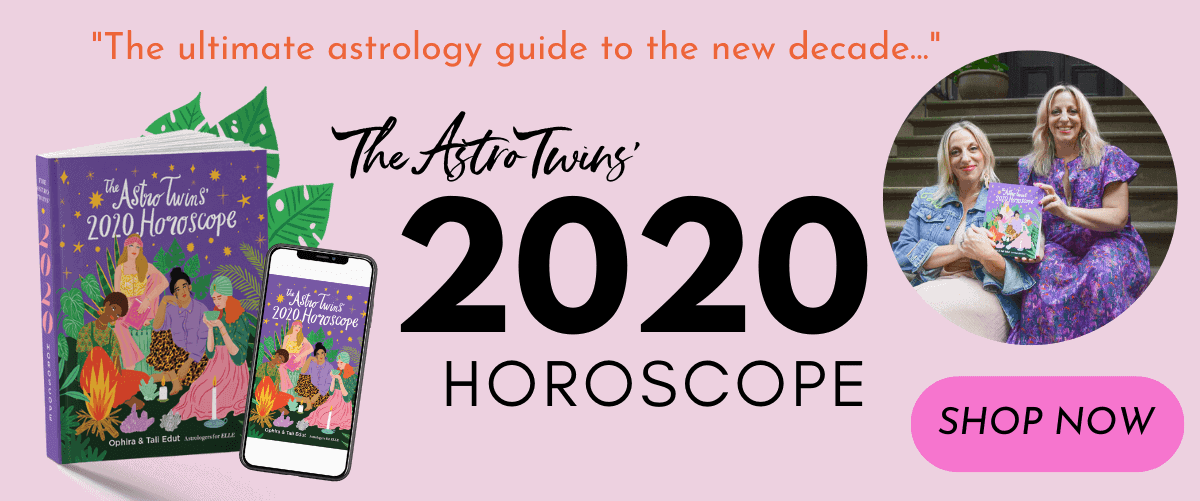 Big ideas or pipe dreams? Mercury in visionary Sag gets obsured by hazy Neptune in Pisces. A reality check may be in order.
Born on a cusp? Please note that dates for the zodiac signs can vary from year to year. To confirm your actual Sun sign, do a free chart here.
Illustrations by Grande Dame


Aries (March 21 – April 19)
Putting your grand plans into motion could prove tricky today. While you're keyed up about forging ahead, other people's roles and certain details need to be considered. Pushing your agenda before it's primed to go could derail success, Aries. Let your ideas percolate over the next couple days. Activate your subconscious and let it lead you in the right direction: freewrite, journal, doodle, make a collage. It could generate a major aha moment that reveals a key piece of the puzzle. See the full week >


Taurus (March 21 – April 19)
You need to get something off your chest today, but who can you trust? Follow your instincts when it comes to those tea spillers and busybodies in your midst, Taurus, and keep it to yourself. Reach out to a bona fide confidante you feel safe sharing with. If no one fits the bill, book a session with a therapist. While you're waiting, pour your angst into your journal or simply engage in some freewriting. Keeping things bottled up inside disrupts your energy. Slip off for a massage or hit the gym to help regain your equilibrium. See the full week >


Gemini (May 21 – June 20)
Keep your nose to the grindstone after hours or pack it up for the night? You're of two minds today, courtesy of a conflictive Mercury-Neptune square. You're craving some one-on-one quality time with a special someone, but professional obligations keep calling your name. You're sick and tired of dealing with this issue, which could make it easy to transform your evening plans into a huge complaint-fest. When you clock out for the day, leave your woes at the office. You deserve a real break, Gem, so make any work-related griping off-limits. See the full week >


Cancer (June 21 – July 22)
Watching what you eat is all well and good, but not if it leads to feelings of deprivation. Complete abstinence from "bad" foods only sets you up for overeating. Face facts: Cancers love the epicurean delights this world has to offer. Why deny yourself the pleasure of giving your body what it craves? You can fill yourself up on carrot sticks, but you'll still be licking your lips dreaming of a double-fudge brownie. When you indulge, it should be guilt-free. See the full week >


Leo (July 23 – August 22)
A little harmless flirting is all well and good, but only do so only to a point today, Leo. Someone could take your coquettish or racy remarks out of the teasing zone, expecting you to follow through. On the flip side, could someone be stringing you along? What about that suave, sexy stranger? Are you prepared to walk your talk? If you're not ready to go there, simply enjoy the attention and chemical attraction. What's the rush, anyway? See the full week >


Virgo (August 23 – September 22)
You're keen on topping your tank with some serious R&R. While the most ambitious thing on your agenda tonight is some comfort food and channel-surfing, someone close to you could pressure you to spend the evening together. You hate to turn your back on them, but you're running on fumes, Virgo. Be straight up that you'd be happy to hang out together, but insist that plans remain low-key. Sharing takeout Thai and a Netflix favorite should be just the right speed. See the full week >


Libra (September 23 – October 22)
Today's planets put you slightly on edge, prompting you to seek out processed and sugary foods to self-soothe. Instead of overloading your system with empty calories that will only induce exhaustion, b r e a t h e. When anxiety starts to creep in, bypass the vending machines and take a mini-meditation break. Even ten slow deep inhales can help restore your equilibrium. Instead of getting wrapped up in your coworkers' woes, slip off for a yoga class over lunch. Libra, you've got enough to manage without taking on other people's problems. See the full week >


Scorpio (October 23 – November 21)
Deadlines are looming, but the daydreamer within is demanding center stage. While you'd much rather be playing today, you do need to be productive, Scorpio. You can tackle the tasks at hand one of two ways. You can organize your to-dos into manageable chunks, and after you meet each mini milestone, give yourself a well-deserved break. Alternatively, put yourself in get-'er-done mode and plow through your workload with blinders on. By evening, you'll be able to let your hair down and indulge to your heart's content. See the full week >


Sagittarius (November 22 – December 21)
Today, Mercury in Sagittarius puts you in the mood for some hardcore "me" time, but a needy family member could attempt to derail your solo plans. You hate to let a loved one down, but topping your tank is mandatory, Archer. Carve out at least a couple of hours for some precious alone time, or you won't be any good to anyone, yourself included. Deny this need, and you'll be exhausted AND resentful. SO not worth it. See the full week >


Capricorn (December 22 – January 19)
Unapologetically hole yourself away today, Capricorn, but be fair warned: A needy loved one could try to guilt you into listening to a (long-winded) sob story. Stand by your limits and get the solo time you so desperately crave. Or, if you need some support yourself, reach out to someone with a sturdy shoulder. If spending a few hours with "me, myself, and I" is what you need, take it. Put numero uno at the top of your priority list. You deserve it. See the full week >


Aquarius (January 20 – February 18)
Don't break the bank in order to keep up with the Joneses today, Aquarius. There's nothing to be ashamed of if social plans fall way outside your budget. If you hate to miss out, partake in some of the fun—perhaps taking a pass on the Michelin-starred meal and joining them for dessert. Alternatively, you could indulge in the full five courses (amuse-bouches included) and cut back your budget in other areas. Yum! See the full week >

Pisces (February 19 – March 20)
Do you realize that you've got what it takes to be a stellar leader, Pisces? That said, your insecurities could inadvertently repel an awesome opportunity today. It's normal to feel apprehensive or nervous when imagining what it would be like in the top spot, but you also need to believe that you're qualified for the job. Perhaps you don't want to accept the role you've been playing in a less-than-savory situation. Bottom line? Stop denying your own agency, Pisces. Claim your personal power and watch your star rise. See the full week >
What do the stars have in store for you this December? Read your monthly horoscope now
Get horoscope updates straight to your inbox! Sign up for The AstroTwins newsletter
The post Daily Horoscopes: December 19, 2019 appeared first on Astrostyle: Astrology and Daily, Weekly, Monthly Horoscopes by The AstroTwins.
Read more: astrostyle.com