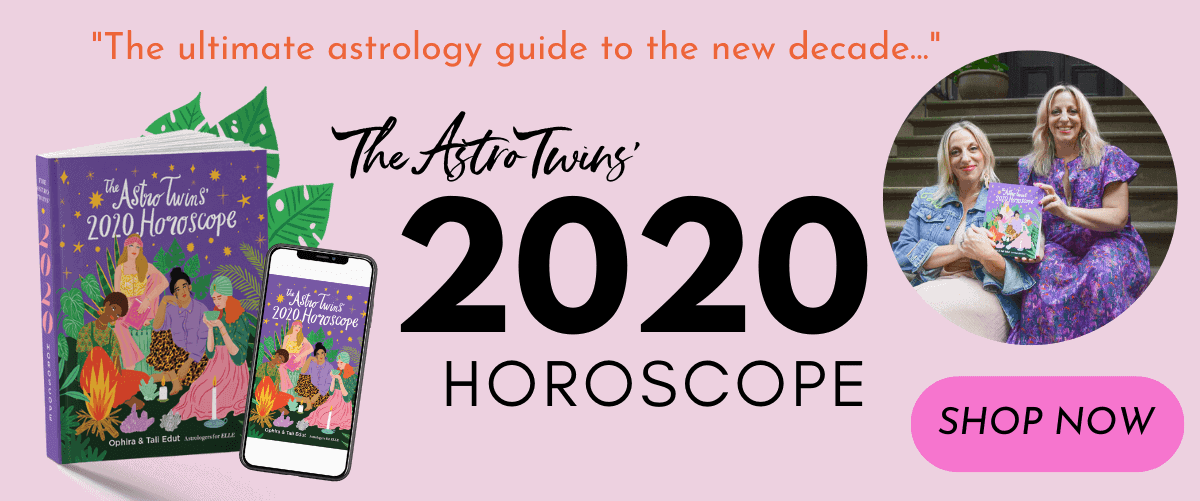 Virgo moon trine Jupiter in Capricorn. Back up your ambitious ideas with a detailed plan
Born on a cusp? Please note that dates for the zodiac signs can vary from year to year. To confirm your actual Sun sign, do a free chart here.
Illustrations by Grande Dame


Aries (March 21 – April 19)
Give the world service with a smile. Today, your heart soars when you pay it forward, Aries. Without going into martyr mode or getting tangled up in drama, look for opportunities to lend a hand throughout the day. In addition to a feel-good buzz, this can position you as a powerful force in people's lives. Don't forget that charity begins at home. Make sure you're giving your inner circle the same TLC you're offering random strangers. See the full week >


Taurus (March 21 – April 19)
Take off those spy goggles and step forward, Taurus. You're the clear leader of the pack today, which entails publicly vocalizing your keen observations. A bold alignment between the moon and showy Jupiter also gives you star quality. Don't dim your glow to put others at ease or because you're uncomfortable with all the attention. Your teammates are looking for a strong guiding hand to steer them in the right direction. With your intuition THIS razor-sharp, there's no better candidate for chief or spokesperson than you. See the full week >


Gemini (May 21 – June 20)
Is your inner circle feeling cheated of your time and attention? You've been flitting about making friends with the world, but just for today, fold up those social butterfly wings. Rather than scatter your energy in a thousand directions, focus on the people closest to home. Give friends and family the same love that you would a new acquaintance you're trying to woo, charm and impress. Treat a close colleague to a catch-up lunch or visit your best friend in their neighborhood tonight. See the full week >


Cancer (June 21 – July 22)
Bring on the witty banter! As the moon in your chatty third house sends a beam to effusive Jupiter in your partnership zone, your flirt factor is on point. Some gentle teasing can break the ice with a new love interest or ease the tension with your long-term mate. Use your wry sense of humor if you need to warm things up. When it comes to resolving conflicts, laughter is indeed the best medicine. It's hard to be stressed or upset when you're smiling. Who knows? You might wind up rolling on the floor laughing—OR getting frisky. See the full week >


Leo (July 23 – August 22)
As the moon and bountiful Jupiter align in your abundance zones, you've got the Midas touch today, Leo. Aim that goldfinger toward a worthwhile goal. There are many things you could do to make money, but why not opt for something in line with your soul's calling? Even if this starts out as a side hustle, it's worth giving it a go. Maybe the answer lies in being more "intrapreneurial" at your current gig, initiating independent ventures from within company ranks. Regardless of where you collect your paycheck, you're in full mover-and-shaker form. Buckle down and focus on sealing some deals! See the full week >


Virgo (August 23 – September 22)
Lights, camera, Virgo! The moon in your showstopping first house connects with glamorous Jupiter, nudging you straight to center stage. Dialing down your enthusiasm and dimming your lights? NOT an option. Err on the side of being "too much" and just say what you're thinking. Got a nervy request to make? Today brings the magic moment for your big ask as the stars lean toward you getting a resounding "yes!" A style upgrade could also be in order. Add more color to your wardrobe with a colorful print or a swingy, belted coat. See the full week >


Libra (September 23 – October 22)
Under today's sensitive mashup of the moon and generous Jupiter, your nearest and dearest could use an extra helping of Libra time. Grab dinner with your inner circle, call your relatives, turn the evening into a game night. Bonding with the people closest to you brings you joy. If you're a newcomer, push yourself to attend a community event where you're likely to make at least one new friend. See the full week >


Scorpio (October 23 – November 21)
Could Team Scorpio use a refresh? Today's fortuitous connection between the moon and Jupiter brings success to collaborative efforts. One caveat: You must join forces with the winning team. No nepotism allowed here. Pick people based solely on merit, not their cool factor. You might need to break free from your clique for a moment to refresh the energy. Still haven't found your tribe? An evening of social exploration could spark a new connection—and who knows where THAT will lead? See the full week >


Sagittarius (November 22 – December 21)
Today's harmonious angle between the moon and inspiring Jupiter makes you one smooth operator. Shake hands, kiss babies, network like your life depends on it. You could sail right into the VIP section, charming some impressive people in your midst. Since it really IS all about who you know, aim high. You're positioned to make some amazing career connections. Don't underestimate the influence of the kind of people Malcolm Gladwell dubbed "outliers," a modern-day equivalent of advisers to the king. One degree of separation can be just as powerful as going straight to the source. See the full week >


Capricorn (December 22 – January 19)
Take a gamble on one of your dreams. With the moon and lucky Jupiter (in your sign!) forming a heavenly connection, your risks will bring rewards. That doesn't mean you should leap without looking, though. Just aim farther than you think you can reach. You're better off overshooting the mark than underestimating your own powers. This may involve traveling or connecting with someone from a different part of the world. Close to home, cross-cultural connections sizzle with promise. Make a point of talking to someone from a different background or lifestyle today. See the full week >


Aquarius (January 20 – February 18)
Today's potent alignment of the moon and wise Jupiter could make you the office oracle or unofficial therapist among friends. Keep the French press full and your door wide open. You'll be surprised who steps in or pings you for your words of wisdom. Embrace this role, Aquarius. You're totally tuned in, and your advice could save someone from taking a costly misstep. One caveat: Wait until they come to you. Foisting your guidance on people, no matter how much they "need" to hear it, will only cause resistance. In some cases, you might have to save the day quietly and anonymously. See the full week >

Pisces (February 19 – March 20)
Friends become lovers, lovers become friends: This is one of those days when lines could really blur, Pisces. The trouble is, a kiss is never just a kiss in your world. Don't open the door to any romance that has "It's complicated" written all over it. There are better ways to spend your time than trying to win over a commitment-phobe. However, someone truly promising could be hanging out in the friend zone. Today's confident cosmos could finally give you the nerve to explore. Attached? Turn your table for two into a party of four or six. The company of other couples is refreshing. See the full week >
What do the stars have in store for you this December? Read your monthly horoscope now
Get horoscope updates straight to your inbox! Sign up for The AstroTwins newsletter
The post Daily Horoscopes: December 17, 2019 appeared first on Astrostyle: Astrology and Daily, Weekly, Monthly Horoscopes by The AstroTwins.
Read more: astrostyle.com