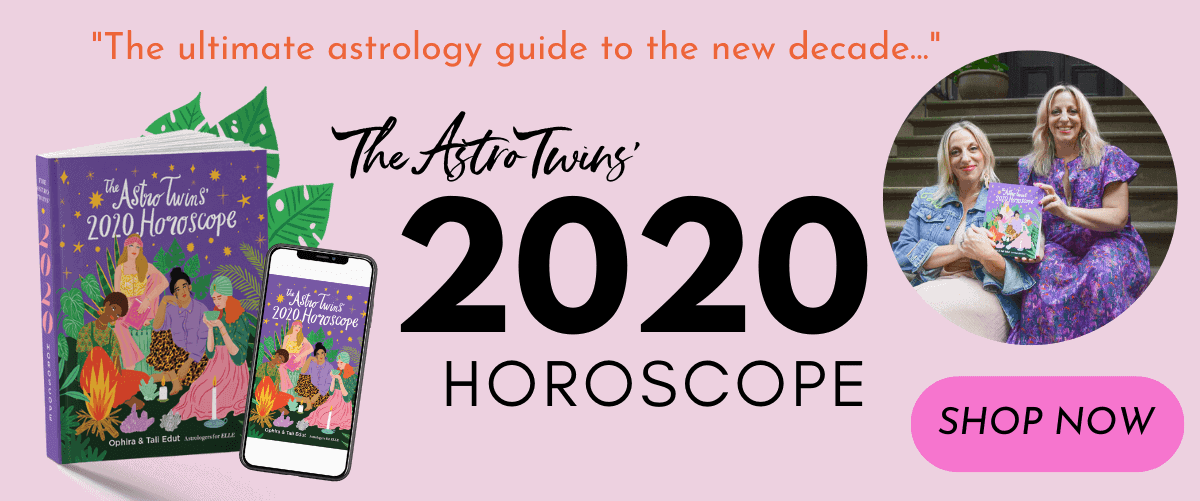 Saturday: Don't let your feelings overtake the facts as the emo Cancer moon opposes Venus in practical Capricorn.
Sunday: Eureka! A rare and revolutionary trine between expansive Jupiter and radical changemaker Uranus in earth signs shakes up business as usual.
Born on a cusp? Please note that dates for the zodiac signs can vary from year to year. To confirm your actual Sun sign, do a free chart here.
Illustrations by Grande Dame


Aries (March 21 – April 19)
Don't get sucked down an emotional rabbit hole, Aries. This Saturday, a sensitive moon-Venus opposition brings a weighty emotional energy. Instead of hanging around the house all day or staying in for a movie night, push yourself to dress up and get out for a while. Your best bet is an active activity. Hit the slopes, throw together a karaoke showdown, jump in on a darts tourney at your local pub. Sunday's planets present you with a paradox that can greatly improve your quality of life. While you abhor feeling tied down, creating structure in your world can actually open the doors to freedom. Ready, set, ascend! Sunday's skies feature a lucky and rare alignment between changemaker Uranus and limitless Jupiter in the career sectors of your chart. While you've got no issue with paying your dues, this magical trine gives you a supersized boost up the ladder. But it's up to you to put yourself out there with that big ask…you know, the one you've been sitting on for a while now. These two planets won't form this angle again until 2028, so don't hold back. Fortune favors the bold. See the full week >


Taurus (March 21 – April 19)
Uh-oh, Taurus, you're about to give the world your unvarnished opinion. This weekend, you can't help but be frank. Be warned: With Saturday' moon-Venus opposition, your sharing could disrupt the status quo. Make sure it's worth the risk. Otherwise, keep it off social media to avoid wasting your day in a time-sucking Twitter war or Facebook firestorm. Instead, gather your favorite no-drama friends and hit the open road for an impromptu day trip. They love your colorful commentary, so save it for the ride. Lady Luck pays you a visit on Sunday as changemaker Uranus in your sign forms a rare trine to fortuitous Jupiter in your expansive ninth house. Opportunities to travel, teach or publish your work could pop up unexpectedly. Some Bulls might be given the chance to relocate or get in on a promising startup. Score! If you're sitting on a revolutionary idea, today's the day to spread your message on a global scale. And don't worry about cross-cultural differences—this brainchild will appeal to people from almost all walks of life. See the full week >


Gemini (May 21 – June 20)
Time to tweak your budget? Saturday's moon-Venus opposition in your money zones cracks the whip on overindulgence. Think long and hard about what you really need, as opposed to what you really want. Heed the cosmos' call to incorporate some delayed gratification into your world. Put your practical side at the helm, and set up a savings schedule for one meaningful purchase, from a limited-edition handbag to a velvet Chesterfield sofa. Apply the same ethos to personal habits. For example, if you've been binging on unhealthy comfort food this winter, take a moment to find satisfying but salubrious substitutes. Resentment, begone! Geminis aren't usually quick to forgive and forget, but Sunday's rare planetary alignment could change that. With optimistic Uranus forming a healing trine to liberated Jupiter, you could suddenly view any active grudges from a completely different perspective. You might realize that clinging to anger hurts no one but yourself. Use this cosmic energy to let go of any past pain. As Uranus and Jupiter won't meet this way again until 2028, seize this opportunity to detoxify your soul. See the full week >


Cancer (June 21 – July 22)
Saturday's skies feature a tense opposition between the Cancer moon and romantic Venus, lending you a clearer view on your relationships. Have you been giving someone else too much power over your emotions? Stop looking to them for cues. The only person responsible for your happiness is you and you alone, Cancer. Cut the codependent cord while you're at it. Sure, you can make an impact on other people's lives, but you're not responsible for saving them. Sit with this truth and pull back. Doing so will lighten the energy while still preserving the love. There's strength in numbers, Cancer, especially on Sunday! A revolutionary trine between visionary Uranus and innovative Jupiter calls for a world-changing collaboration—with you at the helm. Rally those like-minded, progressive souls in your midst in the name of generating positive social change. Believe in the potent power of your collective group—even if you don't have any friends in high places. All that's called for is bold, brave action. Status quo, begone! See the full week >


Leo (July 23 – August 22)
It's great to have clear boundaries, but have you set unrealistic standards? Saturday's moon-Venus opposition shines a light on your expectations in love and friendship. If you've raised the bar too high, it's no wonder you can't seem to get past the icebreaker stage. Instead of writing off an awkward first date, give someone the benefit of the doubt and try a "take two." You never know: A second chance could uncover a keeper. Coupled? If you crave extra support from your mate this weekend, don't be passive-aggressive about it. Simply state what you need. Sunday's cosmos could cause you to embrace a radically different way of doing business. A rare alignment between innovative Uranus and expansive Jupiter paves the way for revolutionizing your approach to work, goals and your daily organizational habits. If you've been coasting down the same predictable path, get ready for a significant shakeup. A VIP could give you an invaluable "in", or a gatekeeper could open an important door. As this alignment won't happen again until 2028, take full advantage of any opportunities that emerge. See the full week >


Virgo (August 23 – September 22)
Saturday's stars crown you life of the party, but be careful not to overdo it, Virgo. A face-off between the moon and Venus could find you intoxicated by a charismatic person. Don't fall prey to their manipulative charms. While all this attention is flattering, the cosmos are clouding your better judgment, which could drag you down a rabbit hole of obsession. Enjoy the witty banter, but let the connection unfold in due time. On Sunday, innovative Uranus in Taurus forms a flowing trine to outspoken Jupiter, offering you an international stage to share your forward-thinking ideas. This cosmic confab might also inspire you to use your voice to advocate for a social cause or human rights issue. Your creative gifts are especially strong now, so if the urge strikes to express yourself visually or artistically, go for it! It could really drive your point home. This rare alignment won't occur again until 2028, so seize the day. See the full week >


Libra (September 23 – October 22)
Work or relax? This Saturday, a moon-Venus opposition makes it hard to tackle all those lofty weekend plans: repainting the living room, drafting a work presentation, attending a buzzed-about exhibit. Loosen any stringent standards you set up for yourself. Take that power nap, but set an alarm so it doesn't stretch for hours. Catch up on a few episodes of your favorite series, but don't binge-watch the whole day away. If you must work this weekend, set a cozy atmosphere instead of suffering your way through it. Slap on a smile and suck it up? Not under Sunday's stars you don't. Candid Jupiter forms a healing trine to changemaker Uranus in the sensitive sectors of your chart. Something or someone could hit a nerve that connects you to deep emotions. Or you might experience an intense intimate connection that brings you to tears. Let them flow freely. Allowing yourself to truly experience your feelings could bring you to a new place within your psyche—one that helps you grow with grace. See the full week >


Scorpio (October 23 – November 21)
Have you (yes, you) lost your sense of humor? Saturday's stars prod you to loosen up—especially in romance. A flirtatious face-off between the moon and Venus calls for a lighter vibe in your love life. Single? If you meet a prospect who only seems good for playtime, don't be quick to write 'em off. As long as you're both clear on the ground rules, you might still have some fulfilling fun. Already in a relationship? Spice things up by exploring new terrain together. Jump in the car and drive without a destination in mind, or bundle up for some urban hiking. Nothing says "romantic refresh" like a spontaneous adventure! The power of two is potent on Sunday, thanks to a supportive trine between impulsive Uranus and expansive Jupiter in the interpersonal parts of your chart. While you'll make friends everywhere you go, it's still a tall order to connect with people who really resonate with your soul. But under today's stars, a kindred spirit could emerge. As this alignment won't occur again until 2028, stay open and alert. See the full week >


Sagittarius (November 22 – December 21)
Pad your pockets by tapping your creativity. This weekend's moon-Venus opposition in your money houses sparks your imagination. You could be struck with a brilliant idea for an Etsy store or uncover ways to sell products on your own site. Eliminate scarcity thinking, Sag. Put your people skills to good use and reach out to your network for connections or referrals. Don't be shy about asking—surely you've hooked people up plenty of times in the past! On Sunday, a healing trine between high-minded Uranus and your ruler, energetic Jupiter, supports you in developing habits that bring more joy to your world. If certain tasks feel confining—getting to work on time, developing a fitness routine or drinking more H2O—it's a sign to develop inspiring rituals around these activities. Infusing sensual touches—perhaps buying a pretty hand-painted glass water bottle or a new yoga mat in your favorite color—can also make the mundane much more pleasurable. See the full week >


Capricorn (December 22 – January 19)
Opposites attract this Saturday, courtesy of a face-off between the moon and love planet Venus. You could feel inexplicably drawn to someone, but don't overthink it. Capricorns thrive on change and excitement, be it in love or friendship…and this person could feel like a kindred co-adventurer. Don't be in a hurry to categorize this connection, though; revel in the banter bouncing back and forth. You'll have plenty of time later to explore the synergies, whether for business or romance. On Sunday, changemaker Uranus in your expressive fifth house forms a sweet angle to liberated Jupiter in your sign. The time is right to spread your innovative ideas to the masses, so hop up on that platform and let 'er rip. Heads up: A steaming-hot love affair or even an unplanned pregnancy could be in the cards. This supportive alignment won't happen again until 2028, so don't let this cosmic gift go to waste. Carpe diem! See the full week >


Aquarius (January 20 – February 18)
Rose-colored glasses? This Saturday, a moon-Venus opposition could cloud your judgment when it comes to amour. Even though you know it's unwise to take a flirtatious person's promises to heart, you might find yourself lapping up every single word. This cosmic confab leaves you susceptible to romanticizing people, making them into something they're not. Resist the urge to hoist people onto unearned pedestals. Your antidote: devote the day to self-care—a round of yoga, a healthy bowl for lunch and a satisfying power nap could reset your emotions. When you're pampered and well-rested, you're far less prone to making questionable judgment calls. On Sunday, a healing trine between your revolutionary ruler Uranus and outspoken Jupiter in the most emotional sectors of your chart calls for dropping your defenses. This rare alignment won't grace our skies again until 2028, so let the waterworks commence. While your sign typically pushes through personal hardship, you're not interested in keeping a stiff upper lip today. Showing your vulnerability could set the stage for a magical moment of forgiveness or bonding. You've got cosmic permission to trust, Aquarius. Revel in the security of being supported. See the full week >

Pisces (February 19 – March 20)
This Saturday, the stars summon your inner culture vulture. Don't just acquiesce to a cheesy comedy or the crew's decision to brunch at the greasy local diner. Take control and offer suggestions, like a table for eight at a see-and-be-seen fusion restaurant, perhaps followed by an indie film or a raved-about exhibit on the history of pop art. Keep the invite list open, too. A sexy surprise guest could light your fire (and vice versa!), making you happy you kept it an all-inclusive affair. Synergy is in the stars on Sunday as forward-thinking Uranus and changemaker Jupiter form a rare angle in the community-centered sectors of your chart. A friendship or collaboration could morph into an experience beyond your wildest dreams—really! As this planetary dynamic duo won't align again until 2028, take full advantage. Begin by assessing your strengths and the areas where you could use some high-quality support. Once you're clear on your needs, don't be surprised if promising connections start coming out of the woodwork. See the full week >
What do the stars have in store for you this December? Read your monthly horoscope now
Get horoscope updates straight to your inbox! Sign up for The AstroTwins newsletter
The post Daily Horoscopes: December 14-15, 2019 appeared first on Astrostyle: Astrology and Daily, Weekly, Monthly Horoscopes by The AstroTwins.
Read more: astrostyle.com