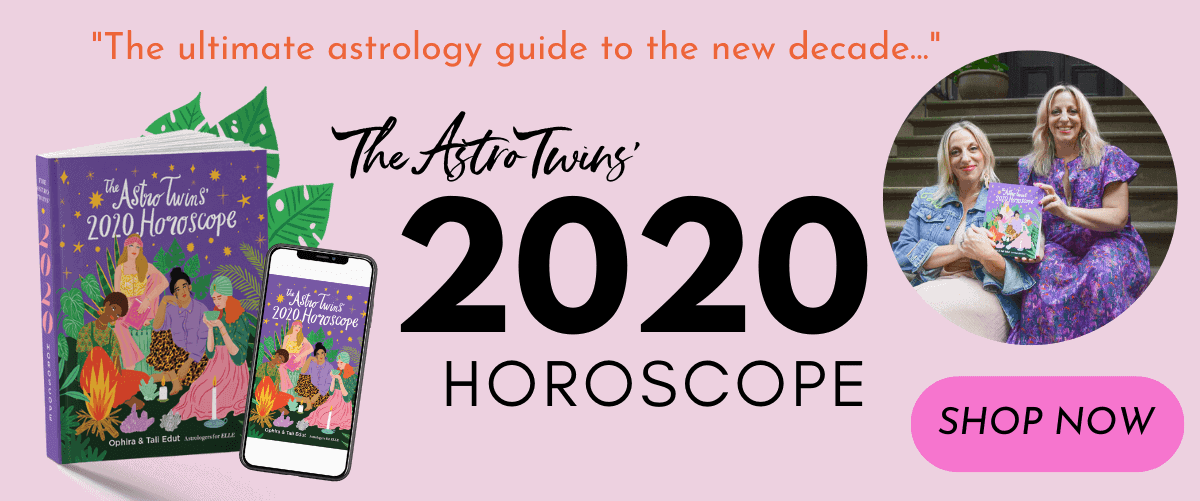 Come out, come out! The Gemini full moon helps us clarify and communicate an important message. But watch for a square from hazy Neptune.
Born on a cusp? Please note that dates for the zodiac signs can vary from year to year. To confirm your actual Sun sign, do a free chart here.
Illustrations by Grande Dame


Aries (March 21 – April 19)
Your sign is famous for its self-determining spirit, but the full moon in Gemini and your third house of like-minded souls lays a foundation for you to form a formidable partnership. While you prefer to go it alone, today you will see the benefit in buddying up with competent people who've done what you're looking to do. This isn't about forging a love connection, but the two of you WILL be a force to be reckoned with on the professional or creative front. See the full week >


Taurus (March 21 – April 19)
Cha-ching! Today's Gemini full moon dazzles in your second house of money, helping you manifest a momentous milestone. Security is important to your fiscally conservative sign, and you're about to be rewarded for your efforts toward that end. For the past six months, you've dutifully had your nose affixed to the grindstone, Taurus, and under the glow of this moon, you'll discover the most direct path to your dream job before the year is through. Increase your chances by strategically socializing at every opportunity! See the full week >


Gemini (May 21 – June 20)
Ready to be large and in charge? Today marks the only Gemini full moon of the year, meaning for the next 24 hours, it's all about you. As the zodiac's twin, you're not typically a "me-first" kind of person, but the bright light of this lunation pulls you into the spotlight. Don't even think about playing small. Go big or go home! Stand up and accept your well-deserved accolades. You heard it from us: You've got cosmic permission to shamelessly self-promote to your heart's delight. See the full week >


Cancer (June 21 – July 22)
Let! It! Go! Today's full moon in Gemini hunkers down in your twelfth house of closure and release, helping you move on from a situation that deserves to be laid to rest for once and for all. Your nostalgic sign tends to hang on well past the point of diminishing returns, but under this healing moon, you can slide into sweet surrender. Rip off that Band-Aid, Cancer. It'll only hurt for a second. And then… get ready for your next big adventure. See the full week >


Leo (July 23 – August 22)
Put that bottle of Veuve on ice! Today's full moon in Gemini lights up your eleventh house of collaboration and brings good news. This is not the time for glory-hogging; it's a time to give credit where it's due, something your generous sign should have no problem with. La luna's glow lingers for two weeks, so keep your ear to the ground to recruit even more top talent. Dip your toe into different scenes and drop any preconceived notions. Dream Team Leo is closer than you realize! See the full week >


Virgo (August 23 – September 22)
You shoot, you score! Today marks the only Gemini full moon of the year—and your professional mojo is about to go viral! If you've been working toward an important career goal for the past six months, you're set to reap the rewards now. You don't need to slowly and methodically crawl up the ladder of success anymore: You have cosmic clearance to BOUND your way to the top. A male figure could be instrumental, so reach out to your guy gurus and ask for what you need. See the full week >


Libra (September 23 – October 22)
Today's stars ask whether you can handle the truth, the whole truth and nothing but the truth. With a full moon in Gemini shining a megawatt bulb in your candid ninth house, you won't have any trouble serving shots of truth serum. But can you stand the taste of your own medicine? If not, consider this a cosmic lesson in softening YOUR blows. Your sign is normally very diplomatic, but it's worth remembering to sugarcoat honesty with an equal amount of compassion. See the full week >


Scorpio (October 23 – November 21)
Decision-making time, Scorpio! Today's full moon in Gemini can help you make up your mind about a matter that's left you sitting squarely on the fence. Start by checking in with your gut: When you think about taking action on this issue, do you get an excitedly tingly "yes" or a stomach-churning "no way"? Staying stuck doesn't do anyone any good, so release what doesn't serve you to make space for a more appealing option to manifest. See the full week >


Sagittarius (November 22 – December 21)
Two's your magic number today as the only Gemini full moon of the year illuminates your seventh house of partnership. Get the bubbly on ice and see if you can't score a last-minute rez at that romantic bistro or a pair of tickets to a great show. You've got cause to celebrate, Sag: A special bond recently underwent a significant growth spurt and, thanks to this lunation, will only get stronger. Single? Go shine your love light wherever your heart leads you—and stay open to "sleeper" types! See the full week >


Capricorn (December 22 – January 19)
Under today's full moon in your sixth house of well-being, your new mantra is "extreme moderation." Self-care gets bumped up a few notches on the priority list, and your challenge is resisting the siren's song of holiday hedonism. You CAN enjoy the party season without going overboard, Cap. Indulge just enough of your cravings to keep your eating and exercising in balance. Professionally, this lunar light could bring an exciting opportunity, but only consider something that will advance your career AND preserve your much-needed vacation time. See the full week >


Aquarius (January 20 – February 18)
Dab a little Love Potion No. 9 on your wrists, Aquarius. With the only Gemini full moon of the year warming up your fifth house of romance, amour is in the air! Playing hard to get becomes a thing of the past as your passion rises to irresistible levels. You don't typically wear your heart on your sleeve, but that may be your new fashion statement. The fifth house also rules fertility, so couples with babies on the brain should plan to get busy! See the full week >

Pisces (February 19 – March 20)
Talk about inconvenient truths, Pisces! Today's Gemini full moon could shed light on some domestic issues that have been smoldering in the dark for a while. It's never pleasant facing facts about relatives or close friends in crisis, but you may discover a situation that can't be ignored any longer. Even if it disrupts your regularly scheduled programming, take the high road and do what you'd want them to do for you. Bonus: heaps of karma brownie points. See the full week >
What do the stars have in store for you this December? Read your monthly horoscope now
Get horoscope updates straight to your inbox! Sign up for The AstroTwins newsletter
The post Daily Horoscopes: December 12, 2019 appeared first on Astrostyle: Astrology and Daily, Weekly, Monthly Horoscopes by The AstroTwins.
Read more: astrostyle.com