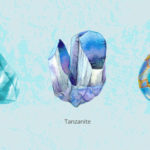 Virtuous, Prosperous, and Spiritual
If you're born in December, and wait all year for your birthday to come, your patience pays off. Those born in the last month of the year enjoy three special birthstones to call their own—zircon, tanzanite, and turquoise. Read on for more about these powerful gems and how they can enhance your own life.
Zircon
The word "zircon" comes from the Persian word "zargun," which means gold hued. The English term we use today comes from the German word "Zirkon." In Ancient Greece, the stone was known as "hyacinth," deriving from the flower of the same name.
One the oldest known minerals, zircon is found in many Christian legends and in the Bible. For instance, some stories tell of the angel Zircon guiding Adam and Eve to the Garden of Eden, while others name the stone as one of the gems given to Moses and then set in the breastplate of Aaron. It is also one of the twelve gemstones set into Jerusalem's city walls.
While zircon is not the same as cubic zirconia, which is often used in faux diamond jewelry, the colorless version of the stone can be mistaken for diamond, nonetheless. Zircon and diamond have been confused for each other for centuries; however, colorless zircon is known for its hallmark flashes of multicolored light, called fire. The gem also comes in many other colors including yellow, green, red, brown, and blue.
Zircon's main healing property is its grounding vibration, which is thought to promote virtuousness. In fact, it's actually known as the "stone of virtue." In olden times, Zircon was a healing stone for curing madness, strengthening intellect, and helping people resist temptation.
Tanzanite
Tanzanite was discovered in 1967 but it was formed 585 million years ago. The discovery was accidental: While the stones simply look like brown rocks, when they were burned in a brush fire caused by a lightning strike, their blue-violet crystal color was revealed.
This stone is only found in one place, that we know of: a relatively small strip of land in northern Tanzania near Mount Kilimanjaro. This makes tanzanite a thousand times rarer than diamonds. Yet, because of diamonds' reputation (and marketing!), tanzanite is more affordable than diamonds, and sapphires, too, for that matter.
This stone has long been associated with good luck, perhaps because of its chance discovery, as well as prosperity. People have been known to use the stone to mark and celebrate new life and new beginnings, as well.
Known for its soothing, calming properties, this stone is also associated with awakening and opening the heart-mind connection. It's thought to reveal truths and help its bearer find a path to enlightenment. The stone is also associated with kindness and compassion.
Turquoise
Turquoise is formed over millions of years when water combines with iron-rich limonite or sandstone that contains copper and aluminum. Copper creates the blue tones within the stone, while aluminum creates the greenish hues.
While the most valuable turquoise stones come from Northeast Iran, the gem is also found in the United States, China, Afghanistan, Israel, Australia, Brazil, Mexico, Argentina, and Tanzania. Originally, it's thought that turquoise came from Turkey, hence why it's named for the French word for that country.
Because it's been around for millennia, this stone has been used for healing all over the world. Europeans once used turquoise to reach a higher state of consciousness, while those in Tibet thought the gemstone brought good fortune. A sacred Native American stone, turquoise was used as a shaman's stone to promote spiritual growth.
Known as the purification stone, turquoise is thought to dispel negative energy—some wear it as a way to protect against pollutants in the environment and toxic people or situations. On the physical side, it's thought to help the body absorb nutrients, aid in detoxification, and enhance the immune system. It can also be helpful in creating inner calm and staving off mood swings.
Want to build a better future? A life path reading with one of our talented life path psychics can tell you where you're headed. And if you don't like where you're headed, your life path psychic can steer you down a better path.
Find a life path psychic or learn more about a life path reading.
About California Psychics
California Psychics is the most trusted source of psychic readings. We have delivered over 6 million discreet and confidential psychic readings by phone since 1995. More than a prediction, we are your guide for life's journey. Serenity, happiness, and success are just a phone call away. With over 400 psychics online to choose from, you're sure to find the best psychics for you. Call one of our trusted and accurate psychics today! Confidential and secure, real psychics, accurate predictions, 100% guaranteed.
The post All About Zircon, Tanzanite, and Turquoise: December Birthstones appeared first on California Psychics.
Read more: californiapsychics.com